Locked.
LAST UPDATED: 10 FEB 2009.

My honest apologies, you have encountered yet another locked journal, with the except for my graphic posts and drawings, other materials will be locked because Friend's Only posts.
My main subject of interest and the primarily subject for most of my grahic post is of my fandom (Japanese boyband Arashi).


Do know this, I like to spam sometimes. If I say I'm going to spam, then yup, I will.
But not a harsh spam, maybe 6 posts after another! XD
And I don't like LJ cut, because I'm LJ technical novice and because I like to show off sometimes :P


The text below is a list of names who helped me for my graphic work, either scanlations, texture and other graphic material.
I thank you so much for your efforts to share.

If you want to ask something.
Don't post in my current post, send me a private message.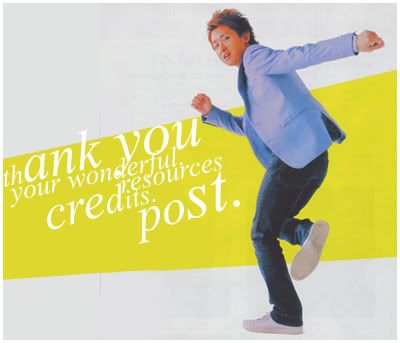 NOTE: Always on the update~ and sorry for not arranging. I'm a dial user so I can't really see who is who without wasting precious time waiting. I have many things to do.


(
Collapse
)





Awards.



The following are banners I have won during icon challenges.
I am very proud of my wins and loses and hope to continue challenging against other amazing icon creators.



(

Collapse

)
</div></div></div>